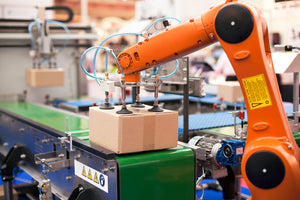 Increasing efficiency and optimizing production.
Goshen Engineering specializes in providing custom, turn-key robotic systems and work cells for any application. We offer a wide range of integration services and are passionate about turning your production challenges into efficient and cost-effective solutions.
We've worked with industry leaders in the food and beverage, military communications and automotive sectors to design, engineer and implement robotic systems.
Robotic Systems
Robotic work cells can be a very versatile and robust addition to your manufacturing process. We have extensive experience with a wide variety of robotic systems, including KUKA, ABB, FANUC, and many others. We pride ourselves in our ability to design custom robotic solutions that integrate with your existing production line, as well as developing new systems that minimize downtime and improve your overall efficiency. 
Offline Programming and Simulation
Goshen Engineering can provide offline simulations of robotic solutions to validate cycle times, reach constraints, and cell design options.  These simulations are useful for proof of concept and design approvals and help to ensure successful implementation of your robotic system. All this can be provided before the purchase of your robotic equipment and provides a proof of concept in a simulated, low-risk scenario.
How We Can Help
Complete turn-key robotic solutions
Single-cell integration
Component refurbishment
Sourcing of new & used components
Legacy integrations and upgrades